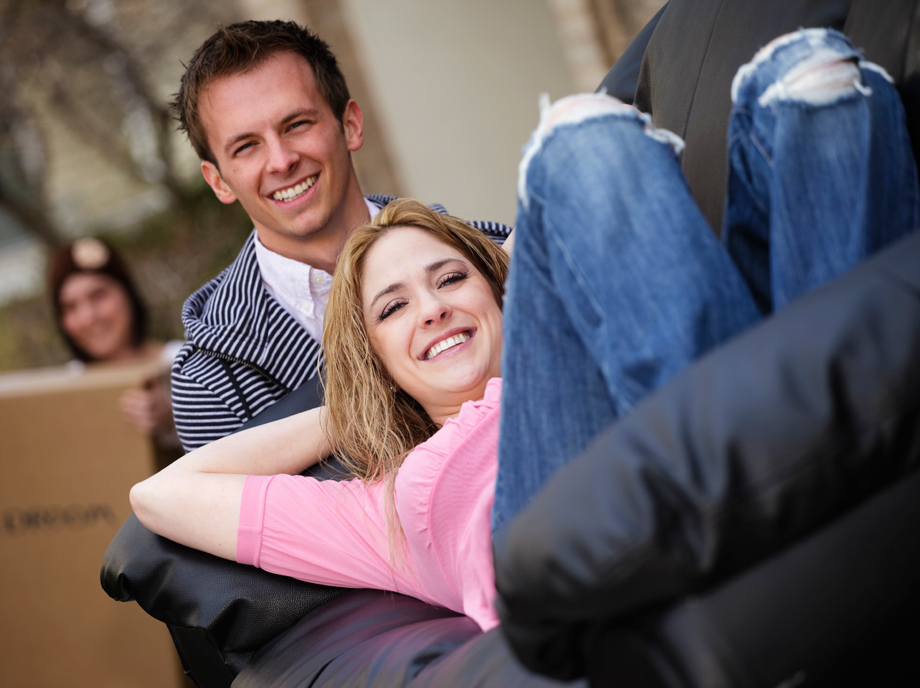 Okay, so you've found your dream apartment and just signed the lease. There's just one more thing that stands between you and your new place – moving.
Moving all your life's belongings into your new apartment can be a challenge, and you can't do it alone. If money is no object, you can hire a moving company, but even then you will have to be prepared.  More likely, you are counting on help from your true friends, and that's our assumption for this article. So yes, you will have to plan how to move the bed or that big 80" TV on your own time. Moving will consume your life if you don't have a good plan. With that in mind, here are five must-know tips for making a smooth move (and ensuring that none of your friends will want to choke you).
Tip #1: The Four Week warning! Four weeks out you should be organizing and anticipating the move. At the four week mark, begin sorting and packing your stuff up, and change your address with the U.S. Postal Service. You'll save a lot of headaches by getting it out of the way. Collect items that you may want to sell or give away. With 30 days to go, each hour you can dedicate in advance will save you misery down the road.
Tip #2: Your friend the fridge! You'll want to stop going to the grocery store two weeks out from your move. It's amazing the amount of care it takes to move milk, eggs, meats, condiments and frozen foods without a mishap. The less you have to move the better, and if you don't buy it now you won't have to throw it all away on moving day.   On the flipside, you'll want to have a few food items waiting for you at your new pad. You'll be glad you did.
Tip #3: Be ready! When your friends show up to begin your move, make sure everything is boxed up, labeled and ready to go. Not being prepared can cost you time and friendships. You don't want to be fumbling around cleaning your dresser while your buddy has your couch strapped to his back. Taking time in advance to be packed and organized will make the move go smoothly.
Tip #4: Take a picture! Before you tear down your TV and entertainment center, take a picture of the back of your setup. With the potential of a dozen cords going every which way, this simple step can keep the frustration to a minimum – and you'll have your system back rockin' in no time.
Tip #5: Be an awesome host! Your friends and family are helping you move and giving their time. Despite the hectic nature of things, make sure you have plenty of beverages, snacks and whatever else for your crew. It will keep 'em happy and productive.
Extra Bonus Tip: Pack your bathroom stuff and comfortable clothes in one box and keep it aside at your new apartment. The first night you move into your new space filled with boxes and chaos, you'll be loving life knowing that you can freshen up and feel good…before you pass out.